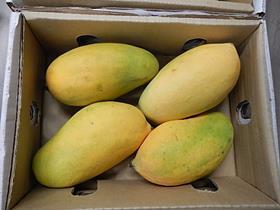 Pakistan will seek to export 150,000 tonnes of mangoes this season, almost double that of the initial target of 80,000 tonnes set by the Pakistan Fruit & Vegetable Exporters, Importers and Merchants Association (PFVA) last year.
The targeted export growth aligns with Pakistan's goal to become one of the top three mango exporting countries in the world within five years.
To accomplish this, the PFVA has identified the need to focus its export attention on growing high value markets such as Japan, the US, Australia, Korea and China.
Waheed Ahmed, head of PFVA, stressed the need for extensive Research & Development (R&D) to improve the quality and appearance of the fruit. "[It's important] in order to gain better access to these markets, which have strong faith in quality and impressive appearance of the fruit," said Ahmed.
In what will no doubt be seen as a boost to the country's export goals, advisor for commerce, textile, industry and production to the Prime Minister of Pakistan, Abdul Razak Dawood, announced two mango treatment facilities in Pakistan had been approved by Australian authorities for export of mangoes.
"I am glad to share that two mango treatment facilities in Pakistan, Mustafa Farm and IAC, have been approved by Australian authorities for export of mangoes from Pakistan. This has been done just in time for the mango season," Dawood tweeted.
"I also congratulated the two companies to achieve this milestone and commended the facilitation provided by Muhammad Ashraf, Consul General (Trade) of Pakistan in Sydney, Australia."
Speaking withFruitnet, Ahmed confirmed Pakistan would look to ease into the Australian market, with 100-125 tonnes of mangoes to be exported there this season. He said all fruit exported from Pakistan to Australia would undergo hot water treatment.
Ambitious goals, but challenges remain
Ahmed acknowledged the challenges around Covid-19 persist, however the increased international demand for mangoes is evident.
The 150,000-tonne export target is expected to fetch a foreign exchange value of over US$127.5m.
Ahmed explained it would be a challenging season for the country's exporters, acknowledging the serious issues of climate changes and scarcity of water facing the industry, as well as the limited freight options due to Covid-19.
Pakistan Today reports an estimated 55 per cent of Pakistan's mango exports are completed via seafreight, while 25 per cent is completed on land and a further 20 per cent by airfreight.
The PFVA has urged the Pakistan government to focus on the international markets of Russia and China, which are showing promising signs of growth for mango exports. The industry body strongly recommended the government conduct mango promotions in both markets.