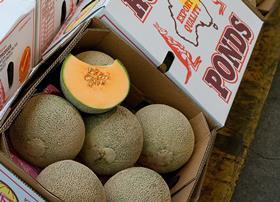 Following an outbreak of listeria in Australian-grown rockmelons, The World Health Organization (WHO) has reported that contaminated melons were exported to nine countries throughout Asia-Pacific and the Middle East.
The WHO said in a statement that potentially contaminated rockmelons (cantaloupes) were sent to Hong Kong, Japan, Kuwait, Malaysia, Oman, Qatar, Singapore, the United Arab Emirates and Bahrain, and may also have gone to the Seychelles.
Due to the slow-developing nature of listeriosis, the WHO said cases in the affected countries might still be identified. The news has been picked up and publicised by press channels in Singapore - who account for 40 per cent of the market share.
The WHO did not name the farm allegedly responsible for the outbreak, making it difficult for other Australian rockmelon brands to regain confidence with export programmes.
A similar scenario is happening nationally in Australia, as the alleged grower, Rombola Farms, has been given the all-clear to re-enter the domestic market.
Rombola have denied claims that they were the source of the outbreak, despite positive testing from the NSW Food Authority who have publicly named them.
"The genetic sequence of these Listeria isolates was an exact match with clinical cases. No rockmelons or swabs from other farms tested positive for Listeria monocytogenes," The NSW Food authority said in their investigation summary.
Australian Melon Association industry development manager, Dianne Fullelove, is encouraging growers to facilitate a solution.
"We are asking the growers supplying rockmelon now to brand or identify their rockmelons so that consumers will know the origin of the fruit."
"We did not receive notification that the farm in question was receiving a clearance from the NSW Food Authority to supply rockmelon."
As a consequence, the association says growers are "very apprehensive" that their produce could be again caught up in lack of confidence by consumers.
Australia exported 15,005 tonnes of rockmelon to Asian and Middle Eastern markets in 2017.