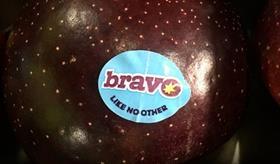 Australia's 2021 Bravo apple harvest has begun and is predicted to be up 1,000 tonnes on last year, providing significantly more volume for domestic and export markets.
About 3,000 tonnes of the fruit, produced from the variety known as ANABP 01 that meets the grade to be branded as Bravo, will be picked across Australia throughout May.
From there the fruit will be distributed domestically and exported to countries such as the UAE, Singapore and Hong Kong where it competes for a slice of the high-end retail market.
This is just the sixth harvest of Bravo apples, which were developed in the Australian state of Western Australia over two decades ago by its Department of Primary Industries and Regional Development, which continues to work on new varieties via the Australian National Apple Breeding programme.
Alannah MacTiernan, agriculture and food ministerof Western Australia, said the variety' was developing a stronger connection with consumers.
'Production of West Australia's favourite apple is rapidly picking up and gaining popularity across Australia and beyond," said MacTiernan.
'There are now 26 Bravo apple producers in West Australia, while plantings of the variety are increasing in Victoria, New South Wales, South Australia and Queensland."
'Bravo apples have a proud local history, developed from the same breeding program that was responsible for the Cripps Pink and Cripps Red apples, marketed as Pink Lady and Sundowner."