The two parties renew agreement to build upon their previous collaborations, in an effort to bring more quality fruit to consumers
Through an elaborate "Comprehensive Strategic Cooperation Signing Ceremony", China's leading retail chain Yonghui Superstores and global fresh produce supplier Camposol have pledged to elevate their partnership to new heights. The ceremonial event took place on 22 May, as part of the sixth 21st Century Maritime Silk Road International Expo in Fuzhou, Fujian province, China.
The agreement between the two entities entails a commitment to further expand the breadth and depth of their cooperation in the future. Their joint efforts will not only focus on supplying fruits to consumers, but also on brand promotion, category expansion, and more. They will also create an 'honest, trustworthy, and mutually beneficial' procurement model, to allow more consumers to enjoy delicious, nutritious, and healthy fruit from Peru.
Yonghui and Camposol started their relationship in 2019, commencing with the supply of Peruvian blueberries and avocados. Over time, their collaboration steadily grew, leading to the signing of their first strategic partnership agreement at the end of 2021. In 2022, Camposol rapidly increased the blueberry volume and supply window to Yonghui. With the retailer's strong marketing support, the fresh blueberry category achieved a 30 per cent growth in sales on Yonghui's platforms.
As pointed out by Lin Jianhua, Yonghui Superstores VP, such an achievement was possible because the two parties were able to share information and make plans pre-season, and worked closely on various fronts during the season to mitigate the risks associated with market fluctuations. This success has laid a solid foundation for the renewal of their partnership.
According to Luis Miguel Baanante, Camposol Trading (Shanghai) General Manager, Camposol will strengthen its supply of blueberries and avocados with the signing of the new agreement, while homing in on extending the supply window for these two products and maintaining consistent quality at arrival to best meet consumer demands.
"With our blueberries, we are almost a year-round supplier to the China market, and this coming season we will also see the first batch of our new blueberry varieties landing in China. While on avocados, our supply window from Peru will be longer than in previous years and our avocado orchards in Colombia will soon be ready to supply China as well, bringing the total avocado supply window to around nine months per year, and working on capabilities to be a year-round solution for our partners in the near future," he said.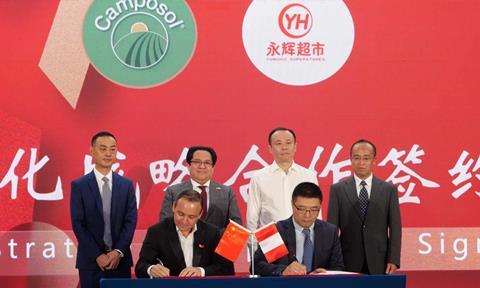 Starting this year, Camposol will also supply cherries to China, as well as Uruguayan mandarins which are set to arrive in China in June.
Yonghui's global direct procurement of fresh produce sources from over 23 countries, with nearly 500 SKUs across a range of categories such as fruit, dried goods, seafood, meat and poultry, and more. The retailer also frequently organises themed promotional activities to support the marketing of these products.
Thomas Lan, manager of import project for western products at Yonghui, said the comprehensive cooperation between the two parties will greatly benefit consumers.
"After the pandemic, public demand for imported goods is resurging. As a customer-centric supermarket, Yonghui is fully dedicated to fresh food direct sourcing. With a specific focus on overseas products, Yonghui is actively building partnerships with leading producers to establish an all-encompassing fresh food supply system. This initiative aims to offer consumers an extensive range of premium and cost-effective fresh products with exceptional quality," he said.