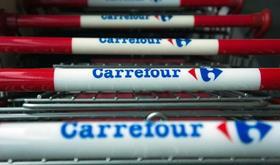 French retailer Carrefour has been rumoured to be considering the sale of some of its Chinese retail business.
Sales at the retailer fell 10 per cent last year Bloomberg reported, down to €3.6bn (US$4.04bn). The publisher reported that Carrefour had been working with an adviser and said people familiar with the matter mentioned the retailer had begun "reaching out to potential suitors."
However, a spokesperson from Carrefour said sale of the China operations was not on the agenda. A reason for the slow sales was identified as an increase in consumers turning to ecommerce for their purchasing.
Other multinational consumer groups are reportedly feeling the slow in growth across bricks and mortar. German retailer Metro Ag is also rumoured to be offloading a majority stake in its Chinese business.
Carrefour has had a presence in China since 1995, and in early 2018, Tencent Holdings – owner of the popular WeChat platform – purchased a stake in Carrefour China with plans to use the partnership to improve data, mobile payments, and "smart retail" capabilities, bringing the company up to speed with the online shopping trend.