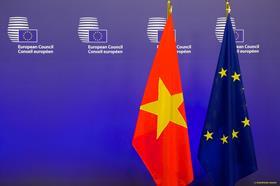 News of the European Union Free Trade Agreement (EVFTA) was welcomed as an opportunity for Vietnam's fresh produce exporters but they still face some challenges to maximise the value of the agreement.
According to a Vietnam News Agency report, some Vietnamese growers are having to evaluate a number of factors before deciding to export to the EU.
Soc Trang is one Vietnamese province that has already started to supply the EU. The province features 30,000ha of orchards and already services markets such as China and the US.
However, the report said despite some awareness of EU requirements such as GlobalGap, some businesses still do not understand the importance of these standards.
Additionally, there is concern about the competition in the domestic market once European produce starts to reach Vietnam.
The Ministry of Agriculture and Rural Development of Vietnam told the Vietnam News Agency that the agreement is set to have a transformative effect on the county's fresh produce production and will change its processes to allow enterprises to participate in the global value chain.