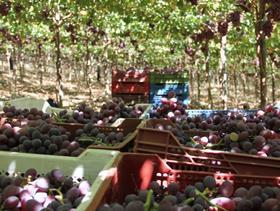 The recovery of the Chinese economy augurs well for Chilean fruit exports to this market in the coming months according to Chile's ambassador to China, Luis Schmidt.
Speaking at a virtual conference organised by Fedefruta on Wednesday, Schmidt said the return of Chinese society to normality in the wake of the pandemic had boosted Chilean exports in recent months.
"People can come together without too much difficulty and the economy is beginning to pick up," he said.
Schmidt noted that as Chile is redoubling efforts to comply with China's demanding phytosanitary regulations as it prepares for the new fruit season amid the pandemic.
He predicted that 2020/21 "will be a good cherry season so long as we can comply with shipments when they ask us, we arrive with an acceptable quality and we do not have coronavirus infection problems".
China is Chile's biggest trading partner, taking 28-30 per cent of exports, but so far this year it has received 37 per cent of Chile's total export volume.
Schmidt said lessons should be learned from the coronavirus crisis about new consumer trends, such as the rise in online sales of food, which are up more than 400 per cent this year.
He also pointed out that while this channel was once mainly favoured by younger people, its use had spread to the general population as a result of Covid-19.
"The crisis is bringing monumental changes and fresh fruit cannot be left out of these changes," he said.
The latest trade figures show that Chilean fresh fruit exports totalled 2.13m tonnes worth US$3.757bn FOB between January and August of this year. This was an overall decrease of 7 per cent in volume and 12 per cent in value compared with the same period last year.
Grapes led the charge with 600,600 tonnes, with a corresponding value of US$968m, a fall of 7 per cent and 21 per cent respectively. The US was the biggest market, taking 45 per cent of shipments, while China was second with 18 per cent.
Cherry exports for the first eight months of 2020 totalled 145,000 tonnes, worth US$954m, representing an increase of 6 per cent in volume and a fall of 7 per cent in value compared to the year-earlier period. China absorbed 94 per cent of Chile's shipment total.