IPA Effectiveness Awards honour the most effective campaigns in the global advertising industry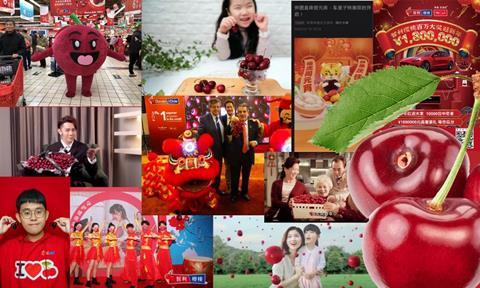 Asoex's Cherry Committee has won a prize for its cherry marketing campaign in China at the 2022 IPA Effectiveness Awards.
It was named winner of the Single Market Entries category at the international marketing awards for the campaign it ran with the support of ProChile from 2016 to 2020.
"We receive this prize with great joy, because although this has not been an easy season for the industry, it encourages us to continue working even harder, since it recognises the dedication, creativity and professionalism with which we aim to boost consumption and improve the positioning of Chilean cherries in important markets like China," said Asoex president Ronald Bown.
"We believe that it has been key in this process that decisions are taken together as an Industry, in this case through our Cherry Committee, and with the support of ProChile, as this shows the importance of the joint work of the private and public sectors."
Bown said the award reinforces the importance of marketing campaigns for Chilean fruit in international markets, as well as working together as an industry.
The IPA Effectiveness Awards recognise excellence in the global advertising industry. To be shortlisted, a campaign must clearly demonstrate its impact in terms of contributing and delivering value and driving measurable results for the client.
The competition attract top brands from all over the world including Tesco, which won the Grand Prix 2020 award for its Food Love Stories campaign. Other notable winners include Guinness, Audi and Diageo amongst others.
The Committee will pick up its prize at a ceremony to be held in London on 10 October.
The Institute of Practices in Advertising, known by its acronym IPA, was founded in 1917 as the Association of British Advertising Agents.
It set up the IPA Effectiveness Awards in 1980. They are the only awards in the global advertising industry where to apply you must submit a paper that demonstrates that the communication plan obtained a significant return on investment, including a econometric study.