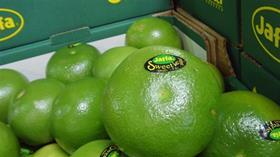 Political turmoil in Iran over banned Israeli citrus finding its way to Tehran markets has turned out to be nothing more than a case of brand infringment.
An orange-grapefruit hybrid, Jaffa Sweetie, labelled as being from Israel was discovered in Iran last week despite a boycott on the country's produce.
The discovery caused some controversy in Iran, and movement of the fruit was frozen.
It has now emerged, however, that the fruit was in fact not from Israel at all, and rather originated in China, reported the BBC.
The fruit was packed in boxes marked 'Origin China', although individual fruit stickers were copies of the Jaffa Sweetie brand, a popular one in Japan and South Korea.
"First of all, it's a bit annoying that somebody is using our brand name and registered trademark without our permission," said Tal Amit, the general manager of Israel's Citrus Marketing Board.
"Apart from this, I would like very much the Iranian people to eat Israeli fruit straight from the origin and not via China."
"But the politics is not allowing us to do any commercial relations with Tehran at the moment while back 30 to 40 years ago, Tehran was a superb market for our fruit."
Counterfeiting of foreign brands is not uncommon in China. New Zealand kiwifruit marketer Zespri won a landmark case last year after a Chinese company infringed on its copyright, and counterfeit-branded supermarkets were recently uncovered in Shanghai.