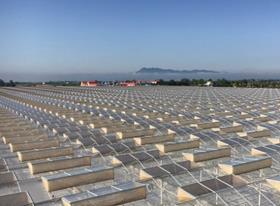 Chinese consumers are willing to pay more for better quality, safer tomatoes, says Joyce Cui, vice-president of Haisheng Agriculture Co (China) whose company in the last three years has invested in 93ha of state-of-the-art greenhouse production in seven different locations across the People's Republic.
"In general, [tomato] demand is for the new concepts and better products," Cui told the Global Tomato Congress (GTC) 2021 yesterday (16 March) in an interview with Asiafruit's Yuxin Yang.
Regarding supply and demand in China – on the one hand, data shows an over-supply of traditional tomato production, but a short supply of premium varieties, she said.
China is the world's largest tomato producer with 1m hectares of growing area – 42 per cent of which is in open fields and 35 per cent under plastic, Cui said
In 2017, Haisheng embarked on state-of-the-art 'Dutch' greenhouse tomato production with a view to growing new varieties, many of which were imported from Europe, she told GTC delegates.
When the company launched its own tomato brand on the market in 2017, with a much higher price point than traditional tomatoes, it was well accepted by retailers and consumers, Cui said.
"We engaged in the tomato business because of market demand. We saw great potential," she said.
Variety is a key tomato trend for the future in China - the category will keep diversifying, she said. Haisheng is seeing growing sales opportunities for big beef tomatoes, as well as cherry varieties.
However, convenience is a key driver in the Chinese produce market, she added. "Our two vegetable products performing well are baby carrots and cherry tomatoes," said Cui. "We are marketing them to be eaten as snacks. There is tremendous opportunity there for the future."
In terms of production, Cui said that growing skills and levels of technology are upgrading in China as the country shifts from a traditional production methods to modern agriculture.
"More and more companies are participating in agriculture [in China], and more international growers are coming into play here," she said. "As a result, average skill levels and technology will keep growing."