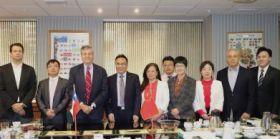 Asoex has signed a cooperation agreement with China's Jiangxi Academy of Sciences that could see new varieties of Chinese kiwifruit being grown commercially in Chile within five years.
The deal – the first that the academy has reached in Latin America –will strengthen scientific and technological collaboration between the two organisations, opening up the possibility of joint research initiatives in the future, Jiangxi Academy's vice president Li Xiongui said.
Asoex president Ronald Bown added: "The signing of this agreement is very important, since it allows us to move forward together in scientific research and exchange of innovation between both countries.
"We will work on the possibility of bringing new varieties of kiwifruit to Chile from China, and thus expand our ability to offer the world new varieties of this fruit."
Bown added that this type of cooperation agreement would strengthen Chile's ties with China, a key market for Chilean fruit exporters.
The work will be overseen by the Chilean Kiwifruit Committee. Its chairman, Carlos Cruzat, noted that the similarity of Chile's growing conditions to those of Jiangxi province was favourable for the development of varieties that adapt well to Chile.
"This deal is a win-win for both countries, as it will ensure that Chinese consumers are supplied with kiwifruit from Chile during their off season," Cruzat said.