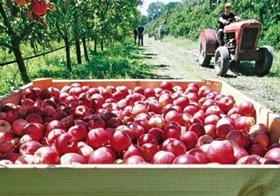 Chinese consumers now have the choice of leaving which New Zealand apples they purchase up to chance.
Chunbo, China's new food retail platform, has signed a strategic cooperation agreement with the New Zealand trade development office and launched the concept of 'blind boxes' into fruit sales for the first time.
New Zealand 'blind fruit boxes' are exclusive to the Chubo platform, with consumers able to select from two options: the 'New Zealand apple blind box' and the 'New Zealand IP fruit blind box'.
The first option contains six to nine different varieties of New Zealand apples, including Gala, Queen, Jazz, Envy, Fuji, Dazzle, Breeze, Sonya and Cherish.
While the IP fruit box is based on providing different varieties of apples, as well as adding the popular New Zealand-grown kiwifruit and lesser-known Piqa Boo pear.
According to data from China's customs, China imported approximately Rmb419m (NZ$92m) worth of New Zealand apples in 2020.
Chunbo said its high-efficiency multinational logistics enables New Zealand fruits to arrive in China within three to five days after being picked and packed.
After that, fruit is tested by Chunbo's CMA-certified quality control laboratories. Only organic products with 'Chunbo best' or 'Chunbo quality control' standards based on national food safety standards can be sold on the Chunbo platform.
Recent reports suggest Chunbo has established long-term trustworthy cooperative relations with embassies and food industry associations in nearly 30 countries around the world.
Through the embassy's personal recommendation of the food, the global buyers of Chunbo went to the place of origin to conduct a comprehensive inspection of the products. In the future, Chunbo will strengthen such cooperation and launch more types of blind fruit boxes.