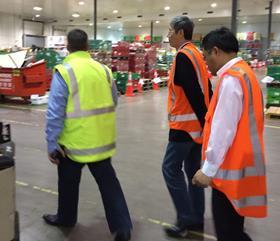 New Zealand has recently hosted a visit by the chairman of China Merchants Group (CMG) and retail solutions provider Loscam.
Chairman Fu Yuning, accompanied by his senior team, sought to evaluate levels of innovation in New Zealand's fresh supply chain and consider how these might be utilised in China.
"We are extremely grateful for Dr Fu's visit to New Zealand," said Loscan New Zealand's country manager, Nick Trask, in a company media release.
"It is representative of the importance our owners place on the New Zealand market and comes at a time when the Loscam business is really transforming the competitive landscape of pallet and produce crate rental."
As the company seeks to grow its business, Loscam aims to utilise New Zealand approaches in addressing key issues in the Chinese fresh produce sector, including food safety concerns, logistics costs and cold chain challenges.
CMG continues to be among China's leading infrastructure and logistics provider, with assets exceeding US$50bn, including numerous investments in New Zealand in its logistics and specialty wholesale sectors.
This includes Loscam, which was launched into the New Zealand market in 2011 and is currently gearing up to enter the produce crate and bin rental market.