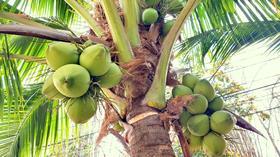 The Hainan coconut industry is set to develop its export capabilities under a new five-year plan published by Chinese authorities.
According to a report from TASS, the report from the Provincial Forestry Department outlines the path to Hainan becoming a major international supplier for coconut produce by 2025.
Although the southern island province already accounts for the vast majority of domestic coconut production China, imported fruit from South-East Asia dominates the market.
As part of the plan the government intends to increase the area allocated to coconut production in the province and a cluster of large industrial enterprises specialising in the processing of coconuts will be constructed.
Another goal is to develop a world-renowned brand for Hainan coconut products, this includes creating special tourist areas on the island, as well as a museum dedicated to the fruit, which is considered one of the symbols of the province
According to the plan, the local coconut industry is expected to have an annual gross product of more than Rmb 23bn (US$3.6bn) by 2025.