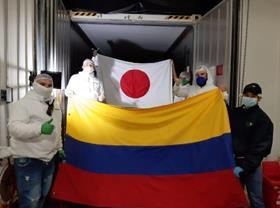 Japanese consumers will soon be able to buy Colombian-grown Hass avocados at Ito Yokado stores.
A container of the fruit left the South American country on 24 April and will be available on supermarket shelves from June, thanks to a deal between producer Cartama and Mitsui & Co Colombia.
Japan's ambassador to Colombia, Keiichiro Morishita, said the shipment was "positive news for Colombia and Japan", coming in the midst of the global turmoil caused by Covid-19.
Buyers from Japan's Ito Yokado supermarket chain travelled to Colombia in February to visit production sites following the official opening of the Japanese market to Colombian avocados in November of last year.
The ambassador expressed his confidence that further shipments will be made in spite of the coronavirus pandemic.
According to ProColombia, Colombia exported US$89m of avocados in 2019, an increase of 42 per cent on the previous year, with Europe being the biggest market. Most of the fruit was produced in Antioquia, Risaralda and Valle del Cauca.