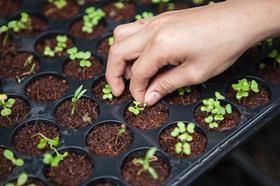 Millions of people across the globe have been confined to their houses because of the coronavirus (Covid-19) pandemic and some have turned to urban farming to source their fresh produce, the start of a possible trend.
According to a report from Reuters, more urban residents are resorting to growing their own fruits and vegetables as panic buying has left supermarket shelves empty.
Landscape architect Kotchakorn Voraakhom designed Asia's largest urban rooftop farm in Bangkok, she told Reuters the current situation has the potential to drive an urban farming trend.
"More people are thinking about where their food comes from, how easily it can be disrupted, and how to reduce disruptions," said Voraakhom.
"People, planners and governments should all be rethinking how land is used in cities. Urban farming can improve food security and nutrition, reduce climate change impacts, and lower stress."
Singapore is one country that has already signalled its interest in urban farming. It imports more than 90 per cent of its food but in 2019 the government set a goal to produce 30 per cent of its food needs by 2030, a plan that will embrace techniques such as urban farming.
On 6 April, Singapore lawmaker Ang Wei Neng urged the country to consider its food supply, "it would be wise for us to think of how to invest in homegrown food".
Speaking to Reuters,Allan Lim, chief executive of ComCrop, said the coronavirus had amplified the fragility of the supply chain.
"It has definitely sparked more interest in local produce. Urban farms can be a shock absorber during disruptions such as this," Lim said.