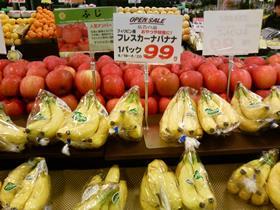 Japanese fruit consumption has been steadily declining over the past decade, and one of the country's leading industry figures says rising costs are contributing to the decline.
"Since the Generation Y segment of the population is always on the go, theywant the convenience of pre-packagedand/or easy to eat fruit; however, cost still remains the primary concern," said Jack Moriya, president of major importer and wholesaler Tokyo Seika and head of the Japan Fresh Fruit Importers Association.
"The younger generation has a propensity to choose the convenienceof juices, and smoothies which has become great competition for fresh fruit."
Changing behaviour among both younger and older generations is a factor in the decline, he said, but figures indicate there are more significant economic factors at play.
Data from Japan's Ministry of Internal Affairs and Communications shows a direct correlation with increased expenditure, meaning an increased cost of fresh fruit.
Ultimately though, fluctuations in worldwide supply and demand has increased pricing of fresh produce, and it's putting off Japanese consumers.
"The weak Japanese yen makesimported fruit more expensive than ever before," Moriya explained.
"Also, a factor is that (with few exceptions), many fresh fruits are considered a luxury item in Japan. And with the high cost, consumption in Japan is extremely low compared to other advanced countries such as the US, and many European countries."
Price inflation contributes to the perception that fruit is an indulgence, not a necessity. Although household expenditure of fruit has remained relatively stable over the past decade, the increasing costs mean volumes are decreasing as a result.
In 2008, the average Japanese household spent around ¥36,118 (US$340) on fresh fruit. In 2017 the figure was at ¥36,052 (US$340) with a variation of around ¥2,500 (US$23) in the years between.
Comparatively, the volume of fruit consumed in 2008 was 89.47kg versus 75.05kg in 2017.
Bananas still continue to be the favourite fruit of Japanese consumers, maintaining stability throughout the past decade, despite a slight slump. Gaining swift popularity, kiwifruit have seen a significant increase in both expenditure and consumption.
Moriya believes there is a solution to this ongoing decline of fruit consumption in Japan.
"[It's] simple, much lower fruit prices."