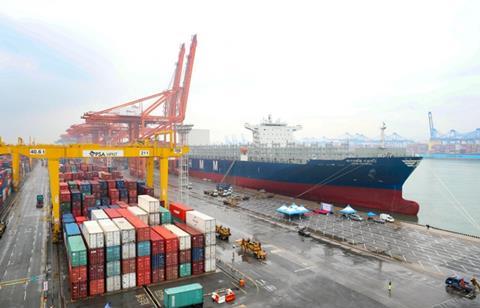 The outbreak of Covid-19 in the Chinese port city of Wuhan at the beginning of January put a halt to a large portion of the country's fruit trade, with wholesale markets closing as residents were urged to remain at home.
As a result, much of the fresh produce that had already arrived was held back from release. It's this action that has lead Chile's minister of agriculture, Jose Ignacio Pinochet, to suggest the likelihood of a global container shortage.
President of the Chilean Fresh Fruit Exporters Association (Asoex), Ronald Bown, reiterated Pinochet's concerns, adding in a statement that there "is indeed a lower availability of refrigerated containers, caused by reduced activity at China's ports due to Covid-19 and the extension of the Chinese New Year holidays".
"At present there is a back-up of containers in the Chinese market, affecting not only our fruit, but also other countries and products that use refrigerated containers. In light of this, we believe that if the flow is not regulated there could be a shortage of containers from March or April of this year," he said.
Bown also noted that shipping companies and customers understand the situation and they were monitoring it regularly, with the hope a shortage does not eventuate.
"Our country experienced a container shortage two seasons ago, and we were able to manage the situation. However, if containers do not start to return from China, this could cause greater complications," said Bown.
The ports of Shanghai and Tianjin have been hit with significant congestion in light of recent events, causing ships to divert to alternative ports such as Hong Kong. With this, Chilean export companies have had to change all existing export documentation, including certificates of origin, phytosanitary certificates and bills of lading.
Bown stressed that China's wholesale markets were making a slow recovery. "(We've seen) a 30 per cent increase in the daily sales of containers. There are currently 2,106 containers of Chilean fruit in stock ready for sale. These comprise 1,465 containers of cherries, 325 of nectarines, 158 of blueberries, 97 of plums, 41 of avocados and 21 of table grapes.'