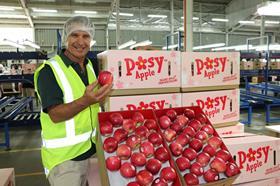 Bostock New Zealand, the largest organic apple producer in Australasia, announced it has sent the largest ever air shipment of organic apples to China.
The outbreak of Coronavirus in the Chinese port city of Wuhan at the end of 2019 has impacted sales of fresh produce across local wholesalers and wet markets.
Many consumers are staying inside, quarantining themselves, and are now turning to online shopping to get access to fresh produce.
Bostock New Zealand owner, John Bostock, said they had sent Posy organic apples, the first available apples of the season, a variety specifically bred for the Asian market.
"The situation in China is devastating and it's meant that Chinese consumers aren't going out to the wet market or wholesale markets to buy their fruit as they avoid crowded public places," said Bostock.
"They are buying it from trusted retailers where hygiene is better assured and many of these trusted retailers are our customers.
"There has also been a significant increase in online sales for fresh produce as consumers look to have groceries delivered to their homes, so they don't have to step outside," he added.
Bostock New Zealand international trader, Jane Maclean, noted many consumers turn to organic produce during situations like this, as they trust it more and believe it's safer for them and their families.
"New Zealand is a trusted source in a situation which is unfolding like this. Organics create another layer of trust for the Chinese consumer," said Maclean.
"Logistically it's becoming difficult to buy fresh produce in China as the wholesale markets have shut down. Retail is still strong, and in fact more retailers are reporting increased sales as a result of the current situation, but they need to source their produce from somewhere and New Zealand is an attractive option for the high-end retailers."
Both Mr Apple, New Zealand's largest apple producer and exporter, and Bostock New Zealand hold the exclusive rights to grow and market Posy apples, with Bostock New Zealand the only organic producer in the world.
The first commercial volumes of Posy apples were made available for export last year, with a relatively modest two pallets airfreighted by Bostock New Zealand. This season is expected to see a considerable increase to that amount, with several pallets expected to be airfreighted, alongside what will be sent by sea.
Bostock New Zealand has indicated it will support the increase of shipments to Asia with a concerted marketing effort.