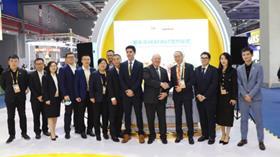 Dole and Chile's Verfrut have signed a strategic cooperation MOU to expand their presence in China.
Under the deal, Dole will use its extensive distribution channels to sell Verfrut products in the Chinese market while Verfrut will boost Dole's product line-up and help it achieve year-round supply.
The two companies have committed to "actively explore a closer, multi-level and all-round cooperation model to build a new development model of mutual benefit and win-win results, bringing high-quality fruits from South America to the table of Chinese consumers and making positive contributions to the food safety and consumption upgrade of Chinese consumers".
The signing of the MOU took place at the 3rd China International Import Expo and was witnessed by Luis Schmidt, the Chilean Ambassador to China and the Chilean Consul General in Shanghai, Claudio Garrido.
Since entering the Chinese market in 1998, Dole has built up a modern processing and distribution network with centres in Shanghai, Beijing, Dongguan, Shenyang, Xiamen, Xi'an, Qingdao, Chengdu, Wuhan, and Kunming.
The multinational counts more than 1,900 stores in 11 national retailers, 26 local retailers and 31 boutique fruit chains among its customers. Together they serve more than 190 cities.
Terry Chan, general manager of Dole China said, "Dole and Verfrut have been cooperating for a long time on products including cherries, peaches, plums, sweet plums, grapes, apple, kiwifruit and other products.
"Chile and China are located in the Northern and Southern Hemispheres separately. In the fruit supply period, it can achieve good complementarity. In the future, Dole will also strengthen cooperation with Verfrut, share resources, and bring Verfrut's quality fresh fruits to Chinese consumers through Dole's national sales channels."
Verfrut is a leading Chilean grower-exporter with seven companies covering production, export, sales and international and domestic logistics. It has 17 farms in Chile and 8 in Peru, with a total planted surface of 25,529ha.
Rodrigo Deik, Verfrut's representative in China, said, "As one of Dole's important partners, we are honoured to sign a strategic cooperation MOU with Dole at the 3rd CIIE.
"The CIIE will also show South American fruits to China. We are very happy to work with Dole in the future to bring more high-quality fresh fruits from South America to Chinese consumers.'