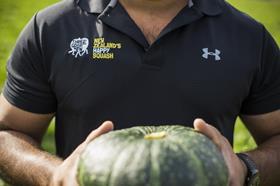 A focus on sweet tasting 'dry' buttercup squash varietiesis paying dividends for Three Good Men, a joint venture between New Zealand marketer Freshco and two of its grower partners.
"More than 65 per cent of our production (this season) will be dry squash varieties, which retailers and consumers prefer," explained Greg Cross, marketing manager – Asia at Freshco.
"Taste is a critical factor for consumers and these dry varieties, particularly Hokkori and Ajihei, consistently deliver the best sweet tasting squash."
The 2021 squash harvest in New Zealand's Gisborne region got underway in late December, around two weeks earlier than usual – the result of favourable Spring planting conditions, according to Cross.
Production in the Hawke's Bay was hit by a heavy rainfall event in November, which is expected to have some impact on early season programmes from this region.
The first shipments of the new season were expected to land in Asian markets in mid-January.
"We expect the total New Zealand planting area will be similar to last season, but final volumes will depend on growing conditions and yields," Cross said. "At this stage, conditions have been good for mid- and late-season crops, with regular rainfall and good spells of heat."
Cross said Three Good Men would continue to develop its existing brand story with partners in its core markets of Japan and Korea this season, while also looking to build market share in China.
Marketing materials are also being developed to promote a new dry variety called Kura no Takumi.
"The Three Good Men brand story continues to gain recognition and support from retailers and consumers as a supplier of high quality, nutritious, safe and tasty squash that the whole family can enjoy," said Cross.