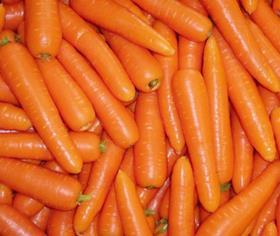 Carrots have bucked the trend for Australia's fresh vegetable exports surging past A$100m (US$77m) in 2020 as consumers cooked at home.
According to data from Ausveg, Australia's exported 216,000 tonnes of fresh vegetable worth A$263m(US$202m) in 2020 (12 months to 31 December 2020) a 6.7 per cent decline in value year-on-year.
The disruption caused by the Covid-19 pandemic impacted a number of categories, however, for carrots there were some positive outcomes.
Michael Coote, incoming chief executive of Ausveg, told the ABC carrot exports grew in volume and 7.1 per cent in value.
'With hospitality and the foodservice sector shutting down in Australia as a result of the pandemic, the exact same situation was happening in export markets. Restaurants, cafes, hotels, bars and pubs were all shut down and people were eating from home," Coote said.
'So, retail demand went up considerably in a lot of countries, as it did here… and carrots, as a staple vegetable that we use in the majority of the dinners, did too. The same thing was happening in Singapore, Hong Kong and all of our major markets.'
Asia and the Middle East accounted for the majority of Australia's carrot exports which still had to contend labour issues, freight logistics,and rising regulatory costswere concerning.
'Breaching that A$100m mark and getting over 110,000 tonnes of carrots out of Australia during challengingtimes and onto plates of international customers is a fantastic effort," said Coote.
The ABC also reported pumpkins had been exported from Darwin to Singapore for the first time in more than two decades and Pak Fresh Handling'sRobertHall said there were plans for further shipments.
'We're definitely hoping for more shipments [this year],'Hall told the ABC.
'This client in Singapore is looking at five to six more containers, and we're also looking at Indonesia and Malaysia as future destinations. So hopefully over the next few weeks and months, we'll do more [pumpkin exports] into those areas."
'We're all about opening up different avenues for growers …and todo it straight out of Darwin means it gets to the overseas customers in Asia quicker and keeps the quality of the produce at a premium.'