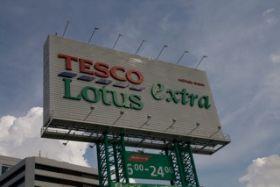 Thai hypermarket chain Tesco Lotus has opened its first 365 convenience store in Bangkok in a bid to challenge the dominance of the CP Group's 7-Eleven chain, according to a report from the Bangkok Post.
Tesco Lotus is reportedly making an enormous investment to see a 365 store built on every street corner in the city, according to an executive from the chain's operator Ek-Chai Distribution System.
For 2014, Tesco Lotus intends to spend approximately Bt10bn (US$303m) to open five 365 outlets by the close of the year.
According to the chain's corporate affairs director Salinla Sihapan, the 365 stores will be open 24 hours a day and sell essential goods, beverages and ready-to-eat meals.
'The 365 store in Pratunam is a pilot project to test the market for six months," she said. "We will adapt it to suit customer demand.'
Thailand presents the second market in which Tesco has launched 365 convenience stores, following its succesful endeavours in neighbouring Asian nation South Korea.
CP All, which operates 7-Eleven stores, is intending to invest Bt2bn (US$60m) to add 600 outlets to the Thai market, bringing its total to more than 8,000 stores.
It reportedly intends to have 10,000 7-Eleven stores by 2018, while FamilyMart is aiming to have 3,000 outlets by 2017 and Mini Big C planning for 850 branches by 2016.
Convenience stores are seen as a key area for growth in the retail sector due to increasing urbanisation.