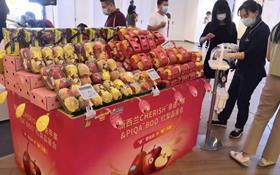 New Zealand grower-packer-exporterGoldenBay Fruit (GBF)has coordinated launch events for new-season Cherish apples and PiqaBoo pears in China.
The promotions were held in key Ole and BLT stores across the country and coincided with the Dragon Boat Festival holiday (14 June).
The branded Cherish variety was commercialised in 2018, with the offering targeted at Asian markets. Plantings have ramped up over the past three seasons, with GBF forecasting a steady increase in exports over coming years.
"Cherish apples havean exclusive striking pink-coloured appearance and a refreshing tropical flavor to delight consumers," GBF said in a media release.
New Zealand-grown PiqaBoo pears are also growing in popularity in China, according to GBF.
"PiqaBoo is a very special IP pear variety developed in New Zealand and is the result of a 20-year journey combining the best of European, Japanese and Chinese pears," the media release added.
"Chinese consumers love the exceptional experience of premium New ZealandPiqaBoo."