New Zealand apple marketer says consumers across Asia are attracted to the variety's candy-pink colour and "tropical flavour notes"
New Zealand apple grower-packer-marketer Golden Bay Fruit (GBF) is fine-tuning its marketing for Cherish apples to highlight the key attributes driving growing demand for the variety across Asia.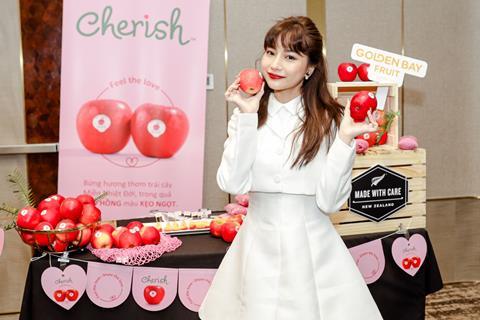 The branded Cherish variety was launched in 2018, with GBF sending 100,000 pieces of fruit to selected Asian markets. Volumes have grown to 70 containers in the space of five years, according to a media release from the company, which reported strong demand across a range of markets, particularly China and Vietnam.
GBF is supporting retailers with marketing and promotional activities, and the company said it has refined its key messaging for Cherish based on sales and insights and commentary.
"The factor that differentiates Cherish is the candy-pink hue and tropical flavour notes," explained marketing director Eleni Hogg. "So we wanted to play up those elements in the brand storytelling and also bring the Cherish name and 'feel the love' tagline to life with cute romantic graphics and supporting video.
"These assets have been localised and rolled out across key Asia markets in point-of-sale, online retail and gift-with-purchase materials."
Cherish has been particularly well received in China, according to GBF, with consumers reportedly attracted to the variety's pink hue and sweet flavour. Premium retailer Hema Fresh has also begun stocking the apple. "This is a real testament to the quality our New Zealand team has achieved with Cherish and the unique attributes of the brand," said Golden Bay Fruit's Asia commercial manager, Wendy Cai.
Meanwhile, in Vietnam, Cherish was featured at the recent 'Made with Care' showcase supported by New Zealand Trade & Enterprise. The brand is available at several premium retailers in Vietnam, according to GBF, supported by regular in-store tastings and gift-with-purchase and display promotions.
"We're delighted to see Cherish succeed in market," said GBF's managing director Heath Wilkins. "This is one of the harder varieties to grow, it has taken hard work at an orchard and packhouse level to make sure Cherish arrives in prime condition. In the last couple of years this work has paid off and we're seeing customers come back for more."
Wilkins said Cherish production from existing plantings will peak at 100 containers, but he added that GBF is continuing with its planting programme to ensure the company can meet future demand.