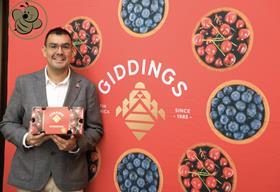 Giddings Cerasus showcased its new late-season cherry varieties developed for the Chinese market to leading retailers and importers in Shanghai on 10 March.
The Chilean-headquartered company, which specialises in production of cherries and berries across the Americas, supplies cherries to China under the Bee Bee brand. And it is seeking to distinguish its brand not only through quality and consistency, but also by extending the availability of Chilean cherries beyond Chinese New Year and other key selling periods.
To achieve this goal, Giddings Cerasus is growing new cherry varieties in southern Chile. The varieties were developed by German plant geneticist and grower Peter Stoppel and are harvested up to ten days later than the Regina variety. The company said the varieties are characterised by their sweetness (with Brix levels of 20o) and firmness (with a Durofel of 90o).
"This sweet, heart-shaped cherry has excellent post-harvest shelf life and is ideally suited to online sales distribution channels as well as brick and mortar stores," the company said in a media release.
Giddings Cerasus believes the varieties are key to addressing some of the challenges facing Chilean cherries in China, and to driving future market growth.
"Chilean cherries have experienced several years of success and recognition among Chinese consumers," the company said in the release. "However, they will face different challenges in the years to come. One of them is to distribute growing production beyond the current hot market celebrations such as Singles' Day, Christmas and Chinese New Year, and to be able to focus and consistently supply on other celebrations such as the Lantern Festival, Valentine's Day and even Qing Ming Festival."

Ramón Arrau, CEO of Giddings Cerasus, said the launch of the new varieties reflected the fruits of a long journey.
"As the great philosopher Lao Tzu once said, 'A journey of a thousand miles begins with a single step.' Our company began a planting campaign several years ago, using Peter Stoppel's exclusive varieties. This journey has led us to the point where we can now see our cherries being sold in the best retail channels in mainland China."
Gonzalo Matamala, general manager of Giddings Fruit's China office, pointed out that the current Chilean cherry season in China, which is not over yet, has taught the industry important lessons and underlined challenges for future seasons.
'The Chinese market is increasingly focused on fruit quality," he said. "By this, I mean firmness, flavour and the eating experience. That is why we view these new varieties with great optimism.'
Leading retailers and importers attended the presentation and sampling event in Shanghai, including representatives of Hema, Yonghui, Walmart, Metro, Joy Wing Mau, Mr Q, Riverking, Kingo, Frutacloud and Hi Fruit.
Matamala said the varieties were "very well received by clients", with companies vying to obtain samples before they were consumed.