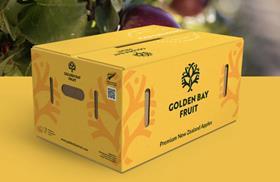 Golden Bay Fruit has unveiled a brand refresh. After 20 years of growing and exporting a range of premium fruit, the New Zealand-based company said the time was right to update its brand and tell its story.
"People know us for our amazing apples, but when we first started it was all about the growers," Golden Bay Fruit said in a media release.
"During a time of uncertainty in New Zealand's apple industry we banded together to form a cooperative. We had lived and worked on this land for generations, so it seemed only fitting that we aligned together for a common good.
"It was from these humble beginnings that Golden Bay Fruit was born. It is this story of hard work, dedication, and collaboration that we wanted to tell with our new branding."
Golden Bay Fruit has refreshed several brand components to align with its brand story, including its logo, colours, typography and imagery.
The interwoven branches of the new logo represent partnership, collaboration, growth and empowerment. The implied circle of the icon suggests a golden sun — representing the Golden Bay area on the north coast of New Zealand's South Island.
"Our new branding embraces our colourful beginnings, and better represents who we are," the release added. "It is something we are proud of and is a step towards an exciting new chapter for the Golden Bay Fruit team and our partners."
To mark the brand refresh, Golden Bay Fruit has launched a new website and digital channels.
It will continue to roll out the new branding on its fruit packaging over coming months as its runs down previous stock.