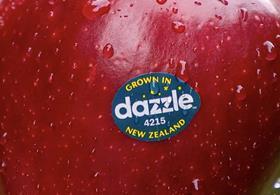 Demand for Dazzle apples continues to outpace supply as production of the branded variety spreads beyond New Zealand.
This year's Dazzle crop is expected to double from last season, with 600,000 cartons to be marketed in 2022.
Steve Potbury, manager of Dazzle's master licensee Fruitcraft, said the available volume would "barely touch the sides" of consumer demand.
"Despite the difficulties of sales and shipping last season, we had exceptional responses from consumers and customers in Vietnam, China and Indonesia, and are seeing increasing demand through a wide range of Asian markets, including India and many South-East Asian countries," Potbury explained.
"With its bright red skin, crisp white flesh, delicate sweet flavour and texture similar to watermelon, Dazzle seems to really resonate with many Asian consumers."
Dazzle will be sold be eight New Zealand exporters this season – Freshmax Group, Bostock New Zealand, Mr Apple, RD8, Golden Bay Fruit, PickMee and Taylor, with additional exports to Japan by Aozora New Zealand.
Production of Dazzle is spreading beyond New Zealand, with the variety being planted in the US by Chelan Fresh and Gebbers Farms.
The first few cartons of US-grown Dazzle were shipped to Asian markets in late 2021 by Chelan Fresh. Global production expansion won't stop there.
"We hope to have European licensees appointed shortly, and in due course will be looking to expand production into other territories," Potbury said.
Read more about Dazzle in the March edition of Asiafruit Magazine, available via the Asiafruit apponAppleandAndroid.