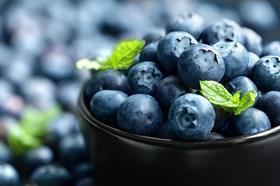 Hortifrut has become the first company to export fresh Peruvian-grown blueberries to Taiwan, opening up a potential market of 23m consumers.
This 11.7-tonne shipment of Ventura blueberries left the port of Paita in Piura on Friday and is expected to reach the port of Keelung on 29 October.
Hortifrut praised the work of the Ministry of Agriculture and Irrigation of Peru, through national agrarian health service Senasa, and the phytosanitary authorities of Taiwan (BAPHIQ) in laying the groundwork for the signing of the phytosanitary protocol between the two countries.
"The work of Senana, to achieve the export of blueberries from Peru, included a series of previous steps such as the quarantining of blueberry plants; sanitary and phytosanitary certification of places of production, packing plants and shipments; integrated pest management, among other aspects," Hortifrut said.
"All these actions are necessary to comply with the requirements and protocols established by national regulations and the NPPOs (National Phytosanitary Protection Organisations) of the importing country."
Peru has ramped up blueberry production over the past decade. According to producer association ProArandanos, planted area is set to increase by 35 per cent this season to 14,789ha compared with 10.936ha in 2019/20.
Last season the country shipped just over 120,000 tonnes, making it the world's leading exporter of fresh blueberries.
ProArandanos forecasts peg the 2020/21 export crop at 165,000 tonnes, an increase of 40 per cent on last season.
Asia, in particular, is expected to see a big increase in shipment volumes. At present, around 15 per cent of the total shipment volume is destined for this market, but ProArandanos said this could double in 2020/21.
The US remains Peru's biggest market, accounting for half of its export volume, followed by Europe on 30 per cent.
Asiafruit Magazine
Enjoyed this free article from Asiafruit Magazine and its team of editors? Don't miss out on even more in-depth analysis, plus all the latest news from the fresh produce business. Subscribe now toAsiafruit Magazine.