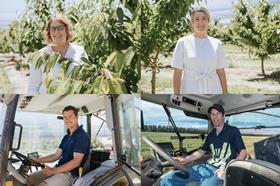 New Zealand horticultural specialist Hortinvest has expanded its team, announcing four new arrivals. It hopes the expansion will help it keep pace with multiple orchard developments in Central Otago and realise its ambition to hold the market share in New Zealand's highly profitable export industry.
Established by New Zealand horticulturalists Ross and Sharon Kirk in 2016, Hortinvest aims to help investors take advantage of the burgeoning global cherry export industry.
The vertically integrated business now manages various export-focussed orchard enterprises including Tarras Cherry Corp, Deep Creek Fruits NZ and Ardgour Valley Orchards, an apricot and cherry orchard - all in Central Otago.
Hortinvest has estimated the combined output of its cherry developments alone could reach up to 4,000 tonnes by 2026.
Joining the team as its company accountant is Lauren Hart. A chartered accountant with a strong commercial background, Hart was appointed to add knowledge to the Hortinvest team and help realise the company's growth potential.
She has a background in the banking and media sectors with previous roles including senior analyst at Heartland Bank, Auckland and management accountant at Bauer Media, Auckland.
Laura Heale joins as Hortinvest's people, safety and systems manager. Heale has an extensive background in recruitment and systems management and an innate understanding of the role processes play in a company's growth.
She will be responsible for integrating and transitioning Hortinvest's business systems including training documents, employment contracts, compliance and auditing reports and policies and procedures to an online environment for easy access by key personnel.
In her previous role as safety, wellness and engagement specialist at Ports of Auckland, Laura's various responsibilities included assisting the pandemic emergency management team to implement and research health and safety screening procedures to ensure the business continued operating.
Damian Febery and Jonathan Janssen have both been appointed as horticultural foremen.
Febery's background includes working with multiple crops in Australia and New Zealand including apples, blackcurrants, avocados and mangoes.
His responsibilities at Hortinvest will include plant husbandry and crop management, pest management, operating horticultural machinery, health and safety implementation, crop irrigation and fertigation and managing orchard staff. He is involved in all orchard developments and works closely with orchard and project manager, Ross Kirk.
Febery holds a diploma in horticulture from Lincoln University, Canterbury and has various certifications and licences including a Grow Safe certificate, HACCP training and a Primary ITO certificate.
Meanwhile, Janssen is an experienced agricultural contractor and farmer, and is involved in developing and managing several of Hortinvest's orchards.
His responsibilities include preparation for planting, irrigation, roading and earthworks, tree husbandry and maintenance, net construction and maintenance, crop and weed spray scheduling.
Janssen has a Diploma in Farm Management from Lincoln University and in 2006, won the University Gold Medal in Agriculture.