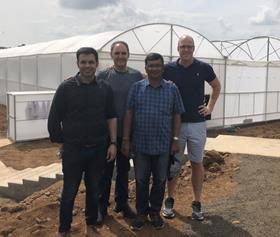 IG Berries is preparing to ramp up its operations having established a vertically integrated berry growing and marketing business in India.
Set up in 2017 as a joint venture between leading Indian fruit importer IG International, Australia-based global breeder-marketer Mountain Blue Orchards (MBO) and experienced agribusiness investor Mano Babiolakis, IG Berries marketed its first volumes of blueberries earlier this year.
The first commercial harvest marked the culmination of four years' effort to get the operation up and running, and Babiolakis, who oversees the management of the joint venture, said the results were encouraging.
"The harvest and packing learning curve were very steep, especially since we could not travel or send our technical teams to assist in the setup process," he acknowledged.
"Overall, we harvested and sold around 30 tonnes [of blueberries] into the market, mainly into Mumbai, with good prices, quality, and very good feedback from our customers. It certainly gave us enormous confidence to see how well the product was received and the fact that the market was willing to pay for a high-quality product."
IG Berries now has two farms in Madhya Pradesh, one located in Amarwara and the second 20km away in Singori. "We have planted around 240,000 plants, all under nets in pots and substrate," explained Babiolakis. "Another 160,000 plants will be going into Singori in 2022. We have also built our own packing and cooling facilities on-farm."
IG Berries' blueberry production currently focuses on the first half of the year, running from January to late May/early June, and the company is projecting to market around 220 tonnes in 2022. Volumes are forecast to build up to 1,200 tonnes per year from 2024 with existing plantings and new plantings going into Singori. The two farms are expected to have around 50ha under production by next year.
IG Berries built a tissue culture laboratory and complete nursery facility early on its journey to enable the company to plant at speed and scale.
"We've established a very sound platform that scale up very fast and in very large way," said Babiolakis. "The MBO varieties give us a distinct advantage. Our nursery has the capacity to produce well over 1m plants per year. We know the market is there, so the main challenge for us is to consistently produce a high-quality berry."
Land to expand
To this end, IG Berries is now working to acquire a large block of land located a few hours' drive from its current farms.
"Buying land is always a challenge in India. You're always buying from multiple farmers, but we're confident we'll be able to finalise this acquisition over the next few months. This will allow us to rapidly expand."
Babiolakis said the goal is to plant 450ha of blueberries on the new site by 2024. "We are currently working on a capital raising exercise and looking for the right partner to enable us to roll this out," he detailed. "We also have raspberries and blackberries in trials, and we will look to slowly expand these lines going forward."
This article is an abridged version of an interview with IG Berries' director Mano Babiolakis on the joint venture's journey in India published in Fresh Focus Berry 2022. To order your copy of Fresh Focus Berry 2022, email subscriptions@fruitnet.com. Asiafruit and Eurofruit subscribers can access digital copies via the app.