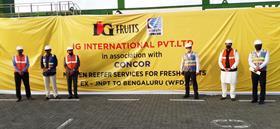 IG International, in association with Concor, has sent its first refrigerated containers of fresh fruits from Mumbai (JNPT) to Bangalore in southern India via rail.
The move sees the leading Indian importer and distributer take a step closer to its goal of fast and efficient food delivery for India's population.
"For the first time a fresh produce company has used rail as a mode to transport fresh fruits from Port city to other consumption centres," said IG director, Tarun Arora.
"[This move] protects the environment and reduces high dependency on a single transport sector, road.
"At IG international, our goal is to be the most innovative logistics company for the fresh fruits in India, and this is just the beginning. We are taking a turn to maintain the quality and the freshness of farm produce for farmers and the teeming communities in India," added Arora.
Concor has a history of supporting India's industries and trade with its innovative multimodal logistics support. Its association with IG marks the first time it has carried fresh fruit using refrigerated containers on India's railway network.
"Through this we are on the road to providing responsive, eco-friendly, cost effective, efficient and reliable multimodal logistics solutions to many more communities across India," noted Arora.
"This will ensure a synergy across Indian communities while ensuring profitability and growth across many sectors."