Retaliatory tariff of 20 per cent to be removed in 90 days in major breakthrough for US growers and shippers
India will lift a 20 per cent supplementary tariff on US apples in the next 90 days, the US House of Representatives announced on Thursday.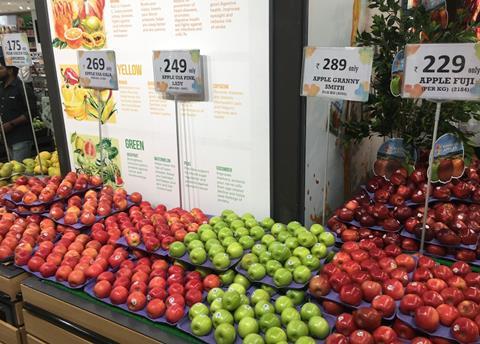 The tariff, which was imposed in 2019 in retaliation for US Section 232 tariffs on steel and aluminium, has had a devastating impact on US apple exports to India over the past five years.
The supplementary duty ramped up the total tariff on US apples to 70 per cent versus 50 per cent for all competing supply origins.
Once Washington State's second-largest export market, shipments to India plummeted from around 8m cartons worth US$120m in 2017/2018 to just 55,000 cartons worth US$760,000 this season, according to industry data.
President of the Washington Apple Commission Todd Fryhover hailed the announcement as "a big win for trade policy and for Washington apple growers", noting that it puts the industry back on "an equal footing" with competitors in the Indian market.
"The Washington apple industry has worked hard to develop the Indian market for our world-class apples, and this will help us to regain our lost market position," said Fryhover. "Implementation is 90 days out, which aligns perfectly with the beginning of our 2023 apple crop."
Since the tariff was imposed in 2019, Turkey, Iran and key EU apple exporting countries have become the dominant suppliers of imported apples to India during the Northern Hemisphere season.
Washington State growers saw their market share drop from 53 per cent in 2017/18 to less than 1 per cent this season, according to the Washington Apple Commission, a loss of roughly US$175m.
Indeed, Fryhover is under no illusions about the task ahead to rebuild market share. "The road to market share recovery will be long and challenging, but we're ready for the challenge ahead with new and innovative promotional programmes," he told Fruitnet.
Winning deal announced at White House
US President Joe Biden announced the tariff removal during Indian Prime Minister Narendra Modi's second state visit to the White House.
US Apple Association president Jim Bair, who was at the White House to welcome Modi with colleagues Chris Gerlach and Dianne Kurrle, also hailed the news.
"US Apple Association has advocated for this for five years, including a meeting of our board of directors with White House officials in March," said Bair. "The apple industry applauds President Biden, US Trade Representative Katherine Tai and Chief Agricultural Trade Negotiator Doug McKalip for this huge victory.
"US apple growers stand ready and able to once again ship great apples to an important trading partner."
In a media release, Washington Apple Commission (WAC) also hailed Washington State senator Maria Cantwell for her "instrumental role" in achieving the removal of the tariffs.
"Back in February, senator Cantwell visited Prime Minister Modi, along with other US Congressional delegation, in India, touching on trade issues and highlighting the effects the tariffs have had on Washington growers," WAC said.
"Cantwell joined senator Debbie Stabenow (D-MI) in Wenatchee, Washington in early June for a forum to discuss the Farm Bill and trade with nearly 30 Washington state agricultural leaders. She also fronted the letter to the Biden Administration, standing up for apple growers, and asking President Biden to help re-open the Indian market."
The removal of the tariff on apples was part of a bilateral agreement to resolve six WTO disputes. India has also agreed to lift retaliatory tariffs on other key US agricultural imports, including almonds and walnuts.