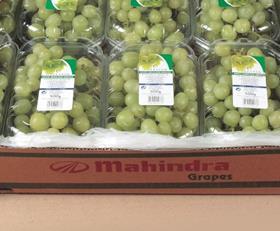 India is set to see a second consecutive year of record grape exports, with its crop in particular demand in Russia and throughout Europe, the Economic Times reports.
This is a source of some concern for Indian exporters, as record shipments in 2012 resulted in a severe oversupply in Europe, with prices dropping by 50 per cent towards the end of the season.
"As India is the only supplier to Europe during February to April, Indians competed against each other by exporting more, leading to a price crash towards the end of the 2012/13 season," a Mumbai-based exporter told the Economic Times.
Russia has risen to become a leading market for Indian grapes, with shipments growing tenfold from 2010 to 2012.
'From just about 100 containers in 2010, we exported 1,000 containers to Russia last year," said Jagannath Khapre, chairman of the All India Grape Exporters Association. "We have now started getting direct orders from the supermarkets in Russia."
Khapre noted that more shipments were now being sent directly from Indian exporters, rather than having to go through middlemen.
Despite Russia's rise, the European Union remains Indian exporter's preferred destination due to the reliable returns their produce generally receives there.
However, its quality parameters are the most stringent, with increasing number of countries demanding grapes from registered orchards, according to horticulture and phyto-sanitory officer in Maharashtra Govind Hande.
Meanwhile, there are concerns that a grape oversupply may also cause prices in India's domestic market to crash in March next year.