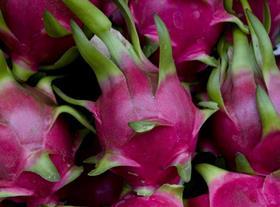 The government of the Indian state of Gujarat has decided to give dragon fruit a new name, kamalam after the Sanskrit word for lotus.
According to a report from Reuters, Vijay Rupani, chief minister Gujarat said his government felt the dragon fruit name had an association with China.
"The Gujarat government has decided the word dragon fruit is not appropriate and is associated with China. The fruit's shape is like a lotus, and hence we have given it a new Sanskrit name, kamalam. There is nothing political about it," Rupani said.
Gujarat is the home state of Indian Prime Minsiter Narendra Modi who had recently praised the region's dragon fruit producers, a move that helped prompt the name change said Vinod Chavda, a local member of parliament.
"After that, the farmers had approached me and suggested changing the name of dragon fruit to kamalam. I am happy that the state has accepted the proposal," Chavda told Reuters.
According to the report, there are more than 200 farmers in the growing region of Kutch in the state's northwest, who tend to over 600ha of dragon fruit production area.
The announcement has been condemned by the state's opposition Congress, which described the change as a gimmick.
"The government has nothing worthwhile to show as achievements, and is trying to divert attention from real issues," Gujarat Congress spokesperson Manish Doshi said.