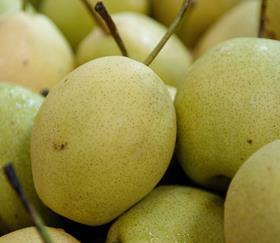 World production of pears for 2019/20 is estimated to jump 2.5m tonnes on the back of increasing production in China, while Indonesia is set to replace Russia as the largest importer.
With the data from the marketing year 2019/20 (ending 30 June 2020) now almost completely collated, a USDA report predicts total pear production to reach 23m tonnes.
The report said China is expected to reach 17m tonnes, regaining the approximately 3m tonnes of output it lost in 2018/19 due to bad weather. Revived supplies are projected to drive exports up nearly 60 per cent to 580,000 tonnes.
Conversely, the EU, US and Argentina's production are all expected to contract for the 2019/20 marketing year.
The report estimates EU production will be down 400,000 tonnes to 2.2m tonnes due to fruit damage, the same issue that contributed to predicted drops of 70,000 tonnes and 50,000 tonnes for the US and Argentina respectively.
When it comes to trade, the report predicts Indonesia will take the title of the world's top importer of pears, bringing in 230,000 tonnes. It would replace Russia which is estimated to import 190,000 tonnes of pears, down from 271,000 in 2018/19.
As for exports, the EU and Argentina are set to follow China's top total with 295,000 tonnes respectively.