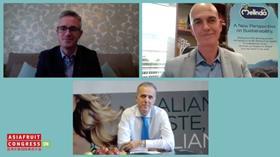 Italy's best known apple brand has joined the South African table grape industry in underlining the huge opportunity that exists to develop fruit sales in Asia.
Speaking in an extended interview during Asiafruit Congress ON, held as a virtual event on 17 November, the architects behind a new project to launch Melinda apples in Asian markets said they were very optimistic indeed about the commercial potential of the region, where the brand has just made its debut.
"I think our development in terms of varieties can be ideal in helping us reach areas like Asia, where we have perfect varieties to be exported so far away," commented Andrea Fedrizzi, marketing and communications manager at Melinda.
The group is working exclusively with Naturitalia, a major export-marketer that in recent years has been instrumental in driving sales of another well-known Italian fruit brand, Jingold kiwifruit, to customers in Asia.
Augusto Renella, export and marketing manager at Naturitalia, told the congress he expected Melinda's brand proposition to resonate well with the region's buyers.
"There are some skills that make Melinda different from other suppliers," he said. "First of all, the apples are available on the overseas market for 40 weeks a year. The Melinda supply chain is one of the most advanced, it offers not only standard varieties but new club apples too, and it has organic apples as well as conventional."
"And then we have the marketing, of course," he added. "As one of the most famous brands in Italy and Europe, we will use those marketing activities to support the distribution of Melinda apples."
Plenty on the table
Meanwhile, thousands of kilometres to the south, South Africa's table grape industry is also ramping up its marketing efforts to capitalise on Asia's emerging opportunities.
Joining the Asiafruit Congress from Upington in the Northern Cape for the second part of the session was Willem Bestbier, chief executive officer of the association South African Table Grape Industry (SATI).
Grape exporters in the country still send most of their fruit to Europe, but according to Bestbier the time has come to dedicate even more effort to selling in Asia. This will be spearheaded, he confirmed, by a brand new, three-year marketing campaign in China.
"We've visited the market and studied it very closely," he revealed. "We've developed a very specific identity, showing what South Africa can offer and reflecting the slogan Beautiful Country, Beautiful Fruit. We're going to be working very closely with importers, retailers and wholesale markets."
But Asia represents far more than a simple rush to sell more in China, Bestbier noted. South Africa's grape industry is poised to extend its market reach further, in fact, adding to China, Thailand, Vietnam, Indonesia and Malaysia.
"New on the radar for us is South Korea and the Philippines, where we are trying to get market access and the process is really progressing quite well," he explained.
The future is extremely bright for South African table grapes, he suggested, noting that investment in new, licensed varieties would help the country to differentiate its offer and generate more value.
"Asia is obviously exciting not only for South Africa but I think for the whole of the fruit industry and especially us in the Southern Hemisphere," he continued. "We know the economy there is growing and the population is growing. The Asians have a very strong fruit consumption culture. That all bodes well for us."
All Asiafruit Congress ON sessions are available on demand to all registered Asia Fruit Logistica ON visitors and exhibitors. Simply click the content tab on the Asia Fruit Logistica ON platform.
Asia Fruit Logistica ON takes place online on 18-20 November.