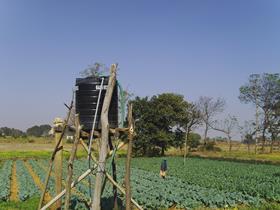 Growers in western India will gain access to some of the latest farming technology and techniques through a project started by Japan's agriculture ministry, according to local news sources.
A report in The Nikkei said a test field will be set up Ahmedabad in Gujarat, which will demonstrate the use of agrochemicals, fertilizers and high-yield seeds to local growers.
These technologies will be aimed at increasing production of cucumbers, tomatoes and leaf vegetables and planting will begin as early as October.
The development of the test field comes after 24 Japanese companies attended a briefing on the project at the site in early July.
These participating companies will contribute raw materials, machinery and advice on how to use and maintain them. Their involvement is also set to help efforts to sell seeds, seedlings and farming machinery in India.
Although Japan's agricultural ministry has been conducting research in the business environments of emerging economies, this is the first time it has invested in a joint project with the private sector in one of these locations The Nikkei report said.
According to the report, some Japanese agricultural companies have already made inroads in India, but as they promote their business separately, problems have occurred with mismanaged seed or machinery not being used properly.
The agricultural ministry hopes a government-led project, which brings the companies together, will help the companies and their customers acheive better results.