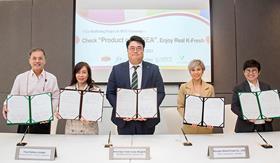 The Korea Agro-Fisheries & Food Trade Corp (aT) has announced a new campaign to promote the provenance of Korean produce in Thailand to combat counterfeit fruit.
Korea's trade promotion agency has signed an agreement with Thai importers, which will see all parties work to eradicate so-called 'fake agricultural products.
It said in a release that reports of fruit not exported from Korea but labelled as Korean – such as Korean pears and Shingo pears – had risen as the popularity of fresh Korean agricultural products grew in South-East Asia.
Signatories to the agreement included importers City Fresh Fruit, Food Gallery, Navatan World Fruits and Vachamon Foods. The agency will work with these importers to provide correct country of origin information to consumers.
In addition to working with importers, aT said it will conduct a marketing campaign in retail settings and regular media as well through social media using influencers. It will encourage consumers to check for the origin of Korean fruit, by identifying Korean flag stickers or using the QR codes attached to the produce.
The agency has also engaged the services of a Thai law firm to submit local applications for brand trademarks for Korean strawberries and pears.