Export organisation introduces Korean varieties to South-East Asian market receiving positive response
The Korea Agro-Fisheries and Trade Corporation (aT) hosted a Korean premium strawberry launch event in Vietnam in December 2022, introducing new varieties to the market.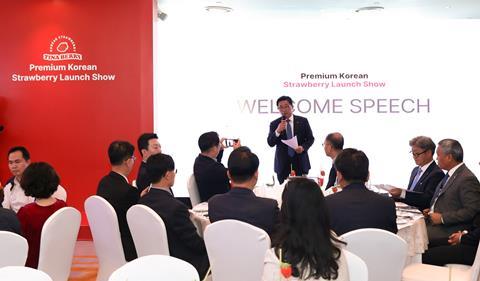 The event in Hanoi was organised in cooperation with Korea's Ministry of Agriculture, Food and Rural Affairs and strawberry export organisation K-Berry. Local importers, retailers and online influencers were invited as part of efforts to introduce different Korean strawberry varieties to the market.
Attendees sampled four premium Korean strawberry varieties: Keumsil, Snowberry, Altaking and Highberry. According to aT attendees were captivated by the size and sweetness of the Korean strawberries and the Keumsil and Altaking varieties were particularly popular for their firmness and sweetness.
"The new breeds we've seen this time had great size, shape and colour, along with high levels of sweetness, making them a perfect premium gift product," said a representative of local premium fruit retailer Klever Fruit,
Kim Chun-jin, president of aT, said Vietnam represented a growth market for the Korean strawberry industry.
"Exports of strawberries to Vietnam have increased by over 36 per cent compared to last year, showing the fruit's local popularity," said Kim.
"The corporation will continue our support so that the safe and delicious K-strawberries can be supplied more actively to the Vietnamese market."
In addition to Vietnam, K-Berry and aT also held a similar showcase in Singapore – the second-largest market for Korean strawberry exports – in December 2022.