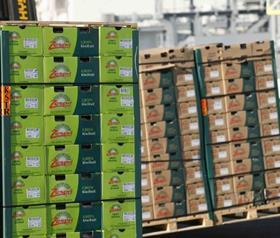 South Korea's Fair Trade Commission (KFTC) announced last night it would fine New Zealand kiwifruit marketer Zespri 427m won (US$376,742) for anti-competitive practices in the Korean market.
As part of the ruling, Zespri is also required to immediately suspend those practices ruled as anti-competitive.
Zespri told Asiafruit Magazine today it had not yet made a decision on whether it would appeal the decision, and that while the KFTC has announced the result of the ruling, it has not yet released the full decision to Zespri and is unlikely to do so for around two weeks.
The ruling is the result of an investigation launched by the Commission in September concerning Zespri's supply contracts with Korean supermarket chains E-Mart and Lotte Mart.
The KFTC stated that the supply contracts were unfair, requiring that the retailers not sell kiwifruit from Chile, which competes with New Zealand kiwifruit in the Korean market.
"After cheaper Chilean kiwis were withdrawn from E-Mart outlets in 2010, the price of Zespri's green fruit increased 13 per cent from 614 won in 2009 to 696 won this year on average," one unnamed KFTC official told Korean media.
Asiafruit Magazine understands that Zespri had been aware of the ruling in the run-up to the announcement, but had only been made aware of the size of the fine last night.
In a statement released this afternoon, Zespri said it respected the KFTC's decision, and was already adjusting its business practices accordingly.
"Zespri will never deliberately contravene any international or local laws, some of which may vary from one jurisdiction to another. On this occasion, which relates to last season, the KFTC has advised us that we overstepped the mark," said Kelvin Bezuidenhout, Zespri Asia's general manager.
"Zespri is fully committed to the growth and development of Korea and the Korean agricultural economy. We will take this opportunity to further strengthen our efforts in providing top-quality products and value services to Korean consumers."
The case against Zespri has been strongly encouraged by the Chilean kiwifruit industry, which has been seeking to usurp New Zealand's dominance of the counterseasonal kiwifruit market in South Korea.
Built up over the last six years by NZ$36m (US$27.32m) in promotion, Zespri now holds a 56.9 per cent share of Korea's kiwifruit imports, according to KFTC figures.
This compares to Chile's 6.7 per cent share, despite the South American supplier entering the market with a tariff of only 12.4 per cent this year – declining to zero by 2014 as a result of the Chile South Korea Free Trade Agreement – against New Zealand's 45 per cent tariff.