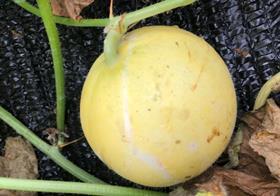 Growers from Korea's Jeju Island have worked with researchers on apple melon trials in an attempt to increase offseason production.
According to a report from Korea Bizwire, growers are working with to Agricultural Research and Extension Services (ARES) in Jeju to make use of facilities for growing strawberries and tomatoes.
ARES officials said apple melons, which are a 'cross' between an apple and watermelon, have multiple characteristics that make them an ideal alternative to strawberries and tomatoes during the idle cultivation season.
The growers are trialling a small apple melon that weighs less than 1kg and can be harvested between 50 and 60 days after planting.