Premium novel produce such as Yoom tomatoes, Cupola sweet corn, coloured cauliflowers and Motong watermelons taps into consumer demand for quality summer holiday lifestyle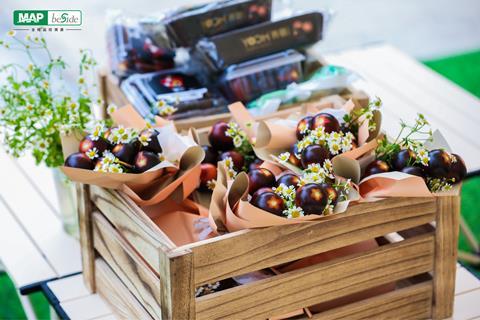 The Modern Agriculture Platform and Digital business unit (MAP) at Syngenta Group China launched a brand new free online game on the 2022 International Children's Day on 1 June in China.
Named 'MAP beSide Farm Puzzle Bobble', the game has given the classic Puzzle Bobble game a modern agriculture theme. The company hopes consumers young and old will find entertainment while playing this game, while learning more about the various patented novel fruit and vegetable products Syngenta Group China has on offer in China, as well as a healthy lifestyle with a nutritional and balanced diet. Since it launched, the game has attracted more than 10,000 players to date (6 June), with the current highest score at 21,000 points, according to MAP.
In its game design, MAP beSide Farm Puzzle Bobble features many of Syngenta Group China's high-calibre patented products, such as the award-winning Yoom cocktail tomatoes (winner of the 2020 Fruit Logistica Innovation Award and 2020 Superior Taste Award), Cupola sweet corn, coloured cauliflowers and Motong watermelons.
For added food safety and traceability, these products are supported by MAP beSide's whole-process quality control tracing solutions. The quality stamp, geography stamp and timestamp together with the green development index of a product are easily accessible to consumers by scanning the product code, making it fully traceable from farm to table, and building trust between growers and consumers.
Spirit of summer
Other than entertainment, the game also has a lucky draw function that gives consumers who play the game a chance to win the featured premium fruit and vegetables for free. As summer approaches, these products are gradually becoming available on the shelves of leading Chinese retailers online and offline, including JD.com, Taobao, Freshippo, Ole', City'super, RT-Mart and CR Vanguard.
In the spirit of summer, on 3 June, during the Dragon Boat Festival, MAP also joined hands with NIO, China's premium smart electric vehicle brand, on its summer roadshow in Hangzhou. As a sponsor of the 'NIO Summer City Camping Party' event, Syngenta Group China's special tomatoes, corn and other fruit and vegetables were on full display on the event set. Spectators were invited to participate in activities such as tasting and tomato bouquet making. MAP believes high-quality MAP beSide products such as Yoom tomatoes are perfect choices for urban lifestyle activities such as camping and road trips.
Seeing Chinese consumers' huge demand for quality fresh produce, MAP has been working tirelessly to develop its business. It has not only brought premium varieties such as Yoom to China, but also established in-depth partnerships with leading Chinese fruit enterprises including Goodfarmer, Dole China, Joy Wing Mau and Benlai.com.
Network and service platform
MAP positions itself as a network and service platform across the whole agricultural industry chain, offering consumers high-quality produce, growers good prices and the industry chain integrated big data. As part of its strategy, the business development of its licensing planting model expands to both upstream and downstream parts of the value chain, where key partners are empowered to invest in marketing and branding.
This year, MAP also plans to launch its 'Complete Industry Chain Centre Zone'. The new facilities are designed to showcase Syngenta Group China's licensed planting business model for its unique varieties, and its 'variety-quality-brand-standard-traceability' business strategy, which is designed to generate value throughout the industry chain, from variety development to end consumers.
A MAP spokesperson says the company hopes to work closely with more clients and partners upstream and downstream, to modernise China's agricultural development and to satisfy Chinese consumers' demand for quality produce.
Contact
Lin Yongshun
MAP cash crop director
yongshun.lin@syngentagroup.cn