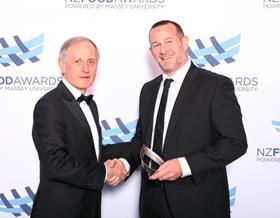 Lotatoes, a low carb potato offering from T&G, has won the Ministry of Primary Industries Primary Sector Products Award at the 2017 New Zealand Food Awards.
Judges selected Lotatoes from a field of five finalists, having been impressed by the process used to naturally breed and sustainably grow the potato.
"Lotatoes is a high quality and delicious potato, sustainably grown right here in New Zealand by passionate farmers loved by kiwi consumers," said Andrew Keaney, executive general manager at T&G.
"Having judges recognise Lotatoes confirms we're is on the right track with innovation, which in the produce industry takes a long time, so hats off to the dedicated teams from T&G and our growing partners Balle Brother and Masters Produce for getting Lotatoes from the soil to the supermarket shelves."
T&G claims Lotatoes have 40 per cent less carbs and fewer calories than other potato varieties.
The offering was developed by cross-breeding different varieties of potato seeds together. Those seeds have a shorter, more sustainable growth cycle, therfore requiring less water than traditional potatos.
"Lotatoes were five years in the making, so getting them into stores was a massive achievement for everyone involved," said Michelle Singh, marketing manager at T&G.
"Being recognised by the New Zealand Food Awards is a credit to the work of all of our passionate people, who ensure Lotatoes had both the health credentials consumers wanted and the great potato taste they love. It's also validation that what we are doing what's right environmentally."
New seaon Lotatoes are expected in selected Countdown stores across New Zealand from late November. T&G is also exploring export options following a number of offshore enquiries.