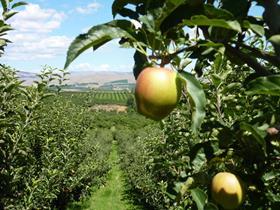 CMI Orchards has announced the addition of more the 4m boxes of fruit to its manifest through new strategic partnerships and significant internal growth.
Bob Mast, president of CMI Orchards, said the US-based company is committed to becoming a one-stop-shop from retailers looking for premium apples, pears and cherries grown and its partnerships with Yakima Fruit and Pine Canyon Growers have provided a boost.
"This is all a part of a long-range plan for strategic growth to better serve our customers," said Mast. "The design began to unfold back in 2018 when CMI Orchards added Pine Canyon Growers as a grower, packer and shipper. This addition greatly strengthened our manifest and our progress has enabled us to team up with another great partner in Yakima Fruit."
Mast said the partnership with Yakima Fruit, inked in March 2020, had increased volumes for a number of apple varieties.
"Yakima Fruit has a highly desirable manifest that greatly bolsters our offerings, including exceptional early Honeycrisp and high-coloured genetic strains of Honeycrisp, Gala and Fuji," said Mast. "The partnership also adds considerable Cosmic Crisp volume."
As a result of these developments CMI reported the following increases in their core, organic and branded offerings: Granny Smith (up 89 per cent), Gala (up 44 per cent), Pink Lady (up 92 per cent), Fuji (up 62 per cent), Honeycrisp (up 62 per cent), and organic Honeycrisp (up 47 per cent) and its total organic crop surpassed 3.5m boxes.
Mast said this year CMI will also bring the first Washington-grown EverCrisp to market and will launch the very first harvest of organic EverCrisp across the US.
He also expressed excitement about cooperating with Yakima Fruit on future planting for apples and cherries.
"CMI is thrilled with the opportunity this blank slate provides and is looking into planting early cherry varieties, licensed branded apples and cherries, as well as high-flavour, high-quality core apple varietals," Mast said.