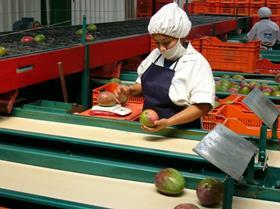 Peru is working to gain access to Malaysia for more of its fresh fruit exports, identifying the potential of the growing Asian economy.
According to a report from the Daily Express, Erick Aponte, trade commissioner of PromPerú said Malaysia become a priority for Peruvian exports.
Aponte said Malaysia's Gross Domestic Product (GDP) growth of 4.3 per cent in 2019 was promising and the Comprehensive and Progressive Agreement for Trans-Pacific Partnership (CPTPP) has provided a pathway for further collaboration.
"Peru has been participating in the CPTPP since the end of 2018, which allows us to increase the number of Peruvian products with more access to the market," Aponte said.
"Since then we have been working on new protocols and last year, we have been managing access for some fresh products, such as pomegranates, avocados and mangoes.
"The latter two are among the most imported fresh fruits by Malaysia and actually, they are the most recognised Peruvian products outside our borders."
Aponte highlighted the growth of Malaysia's mango imports which he said increased 13.6 per cent in 2019 and said the Peruvian fruits that already had access to Malaysia were performing well.
"Cocoa and fresh grapes are the most imported Peruvian products by Malaysia (last year), which also receives significant volumes of quinoa, sacha inchi oil and blueberries. Blueberry imports in particular went up by more than 75 per cent in the first quarter of 2020," Aponte said.