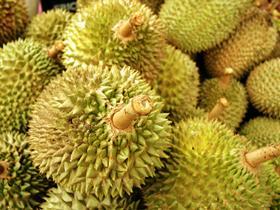 The varietal makeup of Malaysia's durian production is set to change with growers making efforts to grow more Musang King durian.
According to a report from the Malay Mail, Musang King production is expected to grow by 50 per cent by 2020 with demand from overseas markets, particularly China and the potential for increased earnings for growers driving the change.
Currently, Malaysia can only export frozen durian to China, but it is working on gaining access for fresh durian, a product it believes there is an even greater demand for.
The report said a survey of the industry counted 1.57m durian trees in peninsular Malaysia, 569,000 of which were with Musang King (36 per cent).
Mohd Nasir Warris, director-general of Malaysia 's Department of Agriculture, told the Malay Mail, in addition to new plantings, production of Musang King will increase with the use of grafting on existing Durian Kampung trees.
"Sub-standard durian trees, if they're still healthy, can produce Musang King fruit in three years through this technique," said Mohd Nasir.
"So in the coming years, we will see a decrease in Durian Kampung and more Musang King."