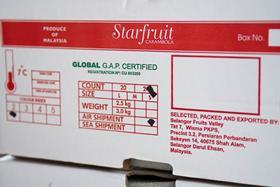 A project by the Malaysian government to improve packaging, labelling and grading on imported and exported fresh produce has met with cautious optimism from the industry.
The 'Regulation 3P' programme is being run by Malaysia's Federal Agricultural Marketing Authority (FAMA), and was originally set to become compulsory by 1 April 2009.
The deadline for full implementation has been pushed back to the start of 2010, however, because of a lack of industry knowledge about the new legislation.
The project is currently being run on a voluntary basis while education on its requirements continues. It will affect fresh fruits and vegetables, cut flowers and sugar cane, which Malaysia exports to Singapore.
"The objective is on food safety and traceability, and fairness to both consumers and growers," FAMA's Alias Radam told Fruitnet. "It's about letting consumers know what the product is."
"We're doing a dry run at the moment, so it's on a voluntary basis. We're testing, we're advising the industry, until the end of the year."
For exports, the plan is simply an extension of the current regulations for starfruit (carambola) and papaya, which have required similar FAMA certification for export for some time.
On the import front, Malaysian authorities are working with suppliers in foreign markets to make sure packaging, grading and labelling practices are up to the new standard, according to FAMA.
Regulation 3P will require steps such as country of origin, grade, packing date and expiry date labelling, and will incorporate WTO phytosanitary standards and Malaysian grading standards.
The delay in implementation of the plan has been due to a lack of industry knowledge on the new regulation. While its objectives are widely praised, the introduction practicalities of the project have drawn some criticism from the industry.
"I feel 3P is a good system to upgrade our existing way of doing packaging, but if they want to roll out the system, they've got to do it properly where all the retailers and importers come together," said Ebby Loo of importer Euro-Atlantic.
"It's not going to be easy for the government to implement. It's going to be hard to get exporters to work with us, because they're so used to their own way of packaging. It might be difficult for them to follow our requirements."
The lack of industry knowledge of the project is the biggest challenge to overcome, according to Kenneth Wee of consulting firm Total Agri Marketing.
"Wholesalers and importers are still a bit in the dark in terms of implementation. We get feedback from the industry, and they're a bit puzzled by it all," Mr Wee told Fruitnet.
"It still needs a lot of education, even to floor levels of the fresh produce industry. It will only be effective if everyone is aware of it."
The benefits of the programme for consumers are significant, Mr Wee said, and could protect the market from dumping of inferior produce and deliberate mislabelling.
"It's a very good programme, which adheres to regulations which will be beneficial to consumers," he said. " Some suppliers cheat sometimes and don't label things properly. With good regulations it protects against that."