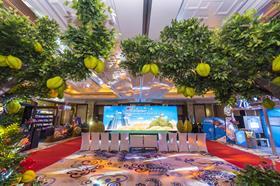 The value of Malaysia's tropical fruit exports has been on the rise, a trend the country wants to accelerate as it aims to become a leading tropical fruit producer.
According to a report from the Borneo Post,Ahmad Hamzah, Malaysia's deputy minister of agriculture and food industry, said the average value of Malaysia's tropical fruit exports increased by 12.29 per cent per annum from 2015 to 2018.
Hamzah spoke at a department familiarisation programme between producers and exporters and said interest from a diverse range of markets had helped drive growth.
"Malaysian fruits such as durian, jackfruit, papaya, watermelon, banana, mangosteen and rambutan have great potential for export, especially to China, Taiwan, Korea, Singapore, Australia, the Middle East, Europe, and the US," said Hamzah.
Hamzah said the department was focusing on durian, jackfruit, papaya and watermelon cultivation to increase production to meet export needs. He also highlighted the need for cooperation to accelerate the development of the country's fresh produce industry, right across the supply chain.
"At the production stage, the cooperation between strategic partners of the agriculture department benefits both parties involving farmers (contract growers) with private agricultural companies," Hamzah said.
"This will increase productivity or generate the volume that can guarantee the market and increase the income of entrepreneurs and the national economy."
In regard to the marketing of the country's fruit Hamzah encouraged collaboration between Malaysia's Federal Agricultural Marketing Authority (Fama), wholesalers, supermarkets, retailers, exporters and importers.