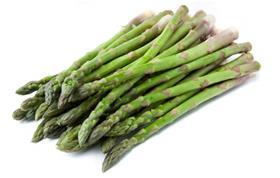 The 2012 Northern Mexico asparagus season was in full swing as of the third week of January, with prices, which had been hovering in the US$28-30 range for 5kg packs at mid-month, quickly adjusting lower to well below US$20 per carton as ideal growing conditions spurred asparagus crowns out of dormancy.
'Production is strong and the market is looking to find its natural level,' said Jen Hutchens of JMB International.
The weather in Northern Sonora state is the key to how early the fresh asparagus deal starts up every year. It's not uncommon for a warm spate of weather to prompt heavy production in mid-January only to have a late freeze strike the growing areas and shut down plant growth for a week or more as it did in February 2011.
US exports totalled a little bit less than 2,500 tonnes in 2011; in 2000, US exports exceeded 7,000 tonnes.
For the full story, see the February/March issue of Americafruit Magazine